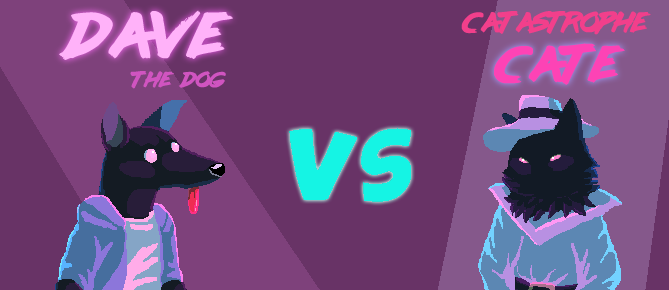 A Dog Named Dave Stuck on a Rave
Enter the life of Dave the Dog and sneak your way through the kitty-littered dance halls to the funkiest tunes! Stop Catastrophe Cate or her henchmen from completing their purrrrrfectly evil plans!
Features
Experience an unusual mix of Stealth & Rhythm as you move to the beat
Whip out your wicked dance moves to the tunes of DJ Kitty LIT-ter~~*
Navigate through hordes* of cat-nipped kitty cats
Collect some sweet, sweet bones (source unknown)
Fight frantic felines ferociously
*Horde size might vary
This game was made as part of the Ludum Dare 2018 Game Jam, where the theme was "Combine 2 Incompatible Genres". Stealth/Rhythm, what can go wrong? :D
Install instructions
The game is super-easy to run, just start the "DogDaveRave.exe" file and you're good to go!